WAT bought an absurdly powerful magnet, with the intention of recovering metal objects from the riverbed. The problem was: how to suspend it without putting too much distance between the magnet and the junk?
This is my first answer.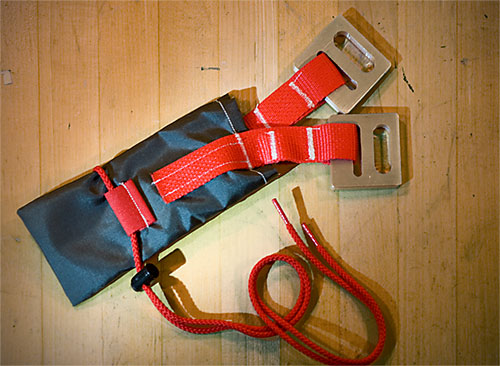 It's a Supplex pouch with double-stitched, melted and reinforced seams and hand-milled aluminum nonmagnetic hardware. The pull-cord is just an extra safety to prevent the magnet from falling out in unusual circumstances.
I'm mostly satisfied with the design, but some of the stitching across the webbing was imperfect. I suspect this was primarily due to the tension induced by using upholstery-grade thread, which is very heavy and causes weird tension problems where it shouldn't, like the eye of the needle.
I made it with my mom's Bernina 1130. I learned to sew on this very same machine, twenty years ago. It's a testament to the quality of the tool that it still sells for almost a grand on eBay. I love Swiss machines and I hope to own this one someday.