Or, "The utter uselessness of car alarms".
Sequence of events:
1. Key fob for my car alarm dies, I am about 1 mile from home, in Richmond, CA, in the Iron Triangle.
2. I walk to RadioShack (also 1-2 miles away) and buy battery replacement.
3. Replacement battery does not work. Can't open door without setting off alarm.
4. I walk home and make 12V battery pack. Fob works, door opens, once. Stops working. Can't start truck.
5. Determine key fob is borked. No spare, because my keys were stolen a week ago. RICHMOND!!!
6. Open door and set off car alarm.
7. Get angry. Convert anger to cool ruthlessness. Open hood and disconnect battery with Leatherman. Cut wires to obnoxious speaker.
8. Disassemble dash with Leatherman.
9. Cut wire ties supporting car alarm. Remove wires from car alarm.
10. Reconnect battery.
11. Pull off white and red/white striped wires (labeled "starter"&"starter motor").
12. Connect wires with can opener.
13. Depress clutch (clutch has starter switch)
14. Truck starts.
15. Buy small "adapter" that connects two wires. Connect wires.
16. VICTORY!!!!!!!!!!!!!!!!!!!!!! Thanks, little can opener: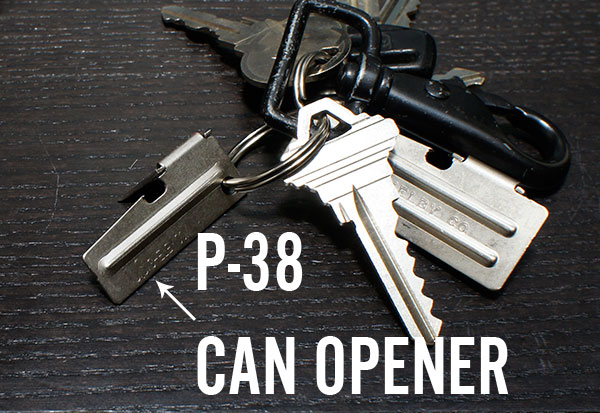 These can openers have quite a history of being used in interesting ways. My Dad gave me one when I was just a little kid – explained its usage and let me put it on my keychain (which mostly contained useless old keys). Over the next 20 years or so I found it useful all over the place. I've used it to remove screws, open cans, cut tape, start fires, and now, to hotwire my truck. Thanks, Dad! Too bad the one you gave me was stolen with all my other keys AND my spare fob. But lucky that I'd purchased a dozen more for gifts.
A few lessons here.
1. Car alarms are useless. Now that I've done this, I could disable most aftermarket car alarms and start many cars in a matter of minutes.
2. Having only one key fob is the same as having no key fob.
3. Having a multitool in your pocket at all times is not paranoia, it is good policy.
4. The P38 can opener is a profoundly useful thing.
EDIT: While driving to buy some bolt cutters, I realized that the connection I made with the can opener is the correct place to put a kill switch in for the starter. I might also put in a fuel pump kill switch somewhere.