Now that I've outlined some reasons for wanting a grayscale (color-wheel-free) projector, here's how to make one. It's simple, and the procedure is generalizable onto pretty much any DLP/DMD device.
First, turn off and unplug your projector. In this case, the projector is a Dell 5100MP.
Remove these screws. Don't miss the studs on the DVI connector, they hold the top on. Take it off.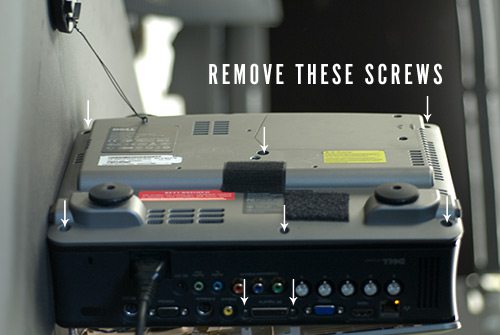 This is the internal layout of the projector. We're really only interested in the color wheel right now. It is held in by two screws. Unscrew them. Remove it by gently prying at the base, and grasping the little metal clip with a needlenose pliers. Wear gloves so that you do not contaminate the optics with finger oils.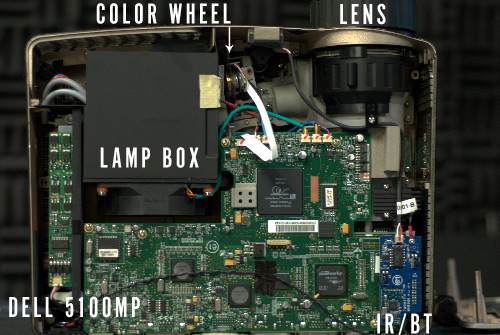 Now that the color wheel is free, inspect it. Note the dichroic coating and the clear section. The clear section is used to increase the overall luminance of the image. When you adjust "brightness" or go into "brightness mode" on your projector, you are adjusting how much light the mirror array reflects through this clear section.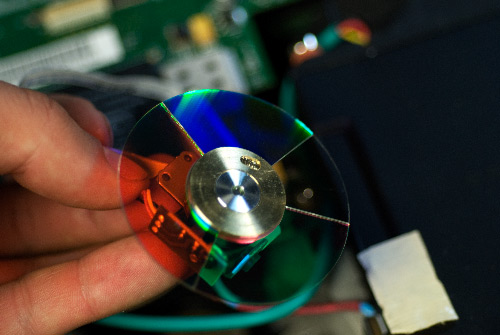 The color wheel is a very simple device, built much like a hard drive platter. It is a series of optical filters mounted on a brushless DC motor (BLDC). Under the clear section, there is a piece of black tape (blanking patch) which subtends the same angle as the clear slice. An infrared detector watches this tape to signal a complete cycle. In a future article, I will examine the exact relationship between this tape strip/detector and the actual refresh rate of the projector. In combination with a NI-DAQ, it might be a good way to use commodity DLP systems for time-critical research. It might also be possible to inject a timing signal in place of the optical detector to control the refresh rate manually.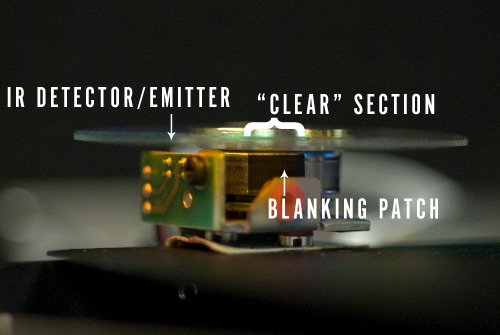 Now that your color wheel is out of the optical path, you can simply put it out of the way. I secured the color wheel assembly to the lamp box with double-sided tape and covered it with a lexan blister pack. Fire up your projector to make sure you haven't ruined everything.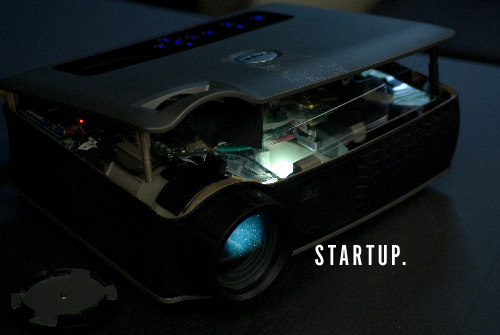 Ahh, that's what I wanted to see. A grayscale image unperturbed by color wheel tomfoolery.